Types of Cytokines
Cytokines play an important role in intercellular signal transduction, which are synthesized and secreted by stimulation. They are involved in cellular activities by binding with relevant receptors, regulation of cell growth and differentiation, and immune response regulation. Cytokines include interleukins, interferons, tumour necrosis factors, colony-stimulating factors, and chemokines etc.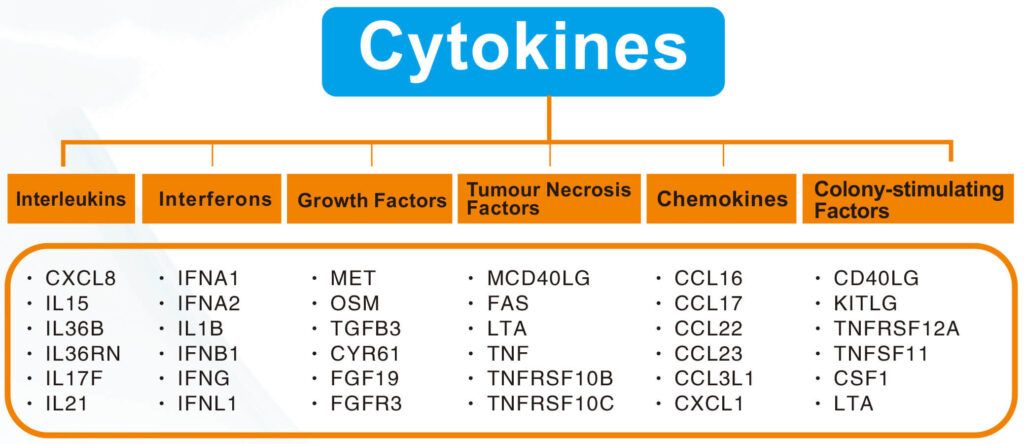 FineTest Cytokine Products
FineTest offers a variety of cytokine Elisa kits featured in batch-to-batch consistency, excellent linearity range, high sensitivity and specificity, wide applications etc. High quality cytokine antibodies and proteins are also available with competitive price.
Interleukins
Interleukins are cytokines primarily found in leukocyte, which are generated by various cells and act on them. They are essential for regulating cellular processes(cell growth, differentiation and migration) and stimulating immune response.
Interferons
Interferons(IFN) are a group of signal proteins released and produced by host cells against a variety of existing viruses. Interferons are named after interfering with virus replication via preventing cells from viral infections. Interferons belong to cytokine proteins and are applied in intercellular communication. Pathogens are eliminated by triggering the protective defense of immune system.
Growth Factors
Growth factors also belong to proteins or steroidhormones. They are natural existing factors stimulating cell growth, differentiation, survival, inflammation and tissue repair. Growth factors are required by regulating different cellular processes. They can be secreted by adjacent cells, distant tissues and glands, and even tumor cells.
Tumour Necrosis Factors
Tumour necrosis factors(TNF) are cytokines directly killing tumor cells. There is no obvious cytotoxicity for normal cells.
Chemokines
Chemokines are cytokines with small molecular weight. They are mainly applied in recruiting leukocyte subsets under steady-state and pathological conditions and inducing chemotaxis of nearby reactive cells.
Colony-stimulating Factors
Colony-stimulating factors(CSFs) belong to glycoprotein and can bind with the receptor protein on the surface of hematopoietic stem cells. They can activate intracellular signaling pathway and promote the production of some hematocytes(e.g. leukocytes, neutrophil) to prevent infection.
Accquant® Elisa Kits for Cytokines
FineTest has developed some high sensitive Accquant® cytokine Elisa kits by using an optimized assay dilution. Accquant® Elisa kits not only reduce half sample requirement but also increase specific antibody-target protein binding which highly improve the kits' sensitivity.
Advantages:
Half Sample Amount
10 Times Improved Sensitivity
Applications:
Valuable Samples: e.g. CSF, saliva
Immunoassay for healthy human samples
| | | | |
| --- | --- | --- | --- |
| Catalog No | Product Name | Sensitivity | Range |
| AQ-H0201 | Human HS-IL-6(High sensitive Interleukin 6) Accquant® ELISA Kit | 0.28pg/ml | 0.46-30pg/ml |
| AQ-H0374 | Human HS-INS (High sensitive Insulin) Accquant® ELISA Kit | 4.688pg/ml | 7.813-500pg/ml |
| AQ-H0201-B | Human HS-IL-6(High sensitive Interleukin 6) Accquant® ELISA Kit | 0.046pg/ml | 0.078-5pg/ml |
| AQ-M0121-B | Mouse HS-IL-6(High sensitive Interleukin 6) Accquant® ELISA Kit | 3.75pg/ml | 6.25-400pg/ml |
| AQ-H0302-B | Human HS-TNF-α(High sensitive Tumor Necrosis Factor Alpha)Accquant® ELISA Kit | 1.875pg/ml | 3.1-200pg/ml |
| AQ-H0205-B | Human HS-IL-8 (High sensitive Interleukin 8) Accquant® ELISA Kit | 0.46pg/ml | 0.78-50pg/ml |
| AQ-H0164-B | Human HS-IFN-γ (High sensitive Interferon gamma) Accquant® ELISA Kit | 1.41pg/ml | 2.34-150pg/ml |
| AQ-H0176-B | Human HS-IL-12 p70 (High sensitive Interleukin 12 p70) Accquant® ELISA Kit | 4.6pg/ml | 7.8-500pg/ml |
| AQ-H0177-B | Human HS-IL-15 (High sensitive Interleukin 15) Accquant® ELISA Kit | 0.875pg/ml | 0.31-20pg/ml |
| AQ-H3267-B | Human HS-IL-17(High sensitive Interleukin 17) Accquant® ELISA Kit | 3.75pg/ml | 6.25-400pg/ml |
| AQ-H0198-B | Human HS-IL-33(High sensitive Interleukin 33) Accquant® ELISA Kit | 1.875pg/ml | 3.1-200pg/ml |
| AQ-H0011-B | Human HS-IL-18(High sensitive Interleukin 18) Accquant® ELISA Kit | 0.983pg/ml | 1.563-100pg/ml |
Selected High IF Cited Cytokine Products
Many cytokine products are cited in international well-know journals. Some typical products are listed below.