CiteAb is a famous search engine and database for research reagents based on cited data. Every year it releases some awards evaluated by citations and users' feedbacks, to guide researchers to choose satisfied reagents. FineTest is an ISO certified professional research reagents manufacturer. Thousands of products are chosen by researchers from over 50 countries annually.
Now we are applying for CiteAb 2022 Awards. Researchers nominating FineTest for Researchers' Choice can get one 10ug free trial from 10,000 antibody items before Feb 20th, 2022.
Two screenshots for the nomination progress and result are required while applying for the trail size. See examples below: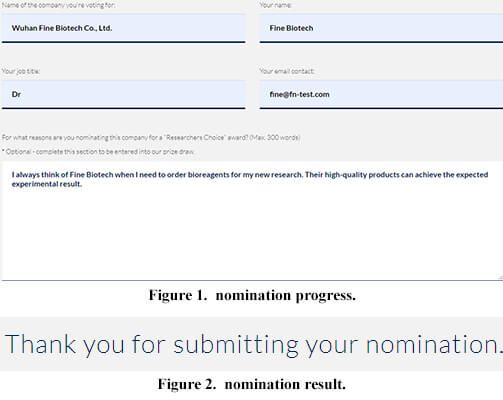 Notes
Nomination Award Name: Researchers' Choice
Valid before Feb 20th, 2022
Free trial activity doesn't contain shipping cost and custom operation fee.
Each scientific research institution can only apply for one free trial in principle.